Honda Recognizes BOB WHITE, Sales Consultant at Jim White Honda, for Providing Exceptional Customer Service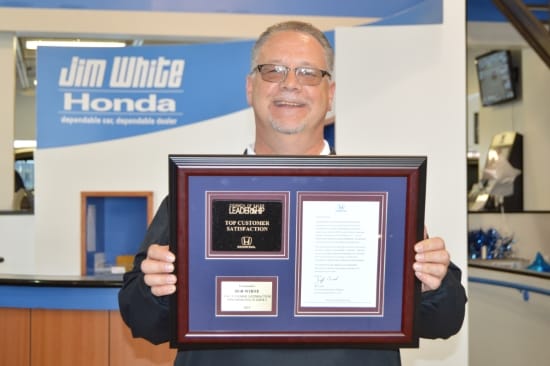 Maumee, Ohio April 23, 2015 - American Honda Motor Co., Inc, recently honored Sales Consultant Bob White, at Jim White in Maumee, Ohio, for earning exceptional rating from his customers. Bob White achieved the exclusive status of Top Performer- Customer Satisfaction in the 2014 Honda Council of Sales Leadership program.
This program is designed recognize promote excellence in the key performance areas- sales, customer satisfaction, and professional development-among Honda sales consultants nationwide. These top-performing sales consultants consistently demonstrate superior customer care by exhibiting a high degree of professional knowledge and a commitment to fulfilling their customers' needs Mr. White is one of only 33 out of more than 15,000 Honda sales consultants across the United States to earn the Top-Customer Satisfaction distinction in the 2014 program.
Mr. White has served Honda Customers at Jim White Honda for 23 years. This is the 20th time Mr. White has earned membership in the Council of Sales Leadership.